Logo Review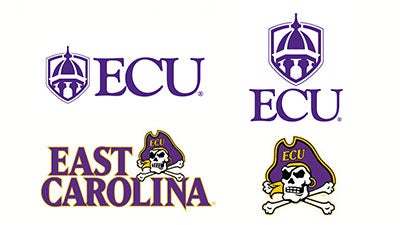 University and Student Organizations
Recognized University Departments and Registered Student Organizations who wish to use the ECU marks on apparel (such as t-shirts, hats, and golf shirts) and gift/promotional items (such as key chains, mugs, and jewelry) must use licensed vendors and submit designs for approval prior to production.
Request for approval usually falls into two categories:
Requiring Royalties – Items for resale bearing university trademarks constitute commercial use and will require royalties.
Royalty Exempt – Items restricted to internal use by University departments and student organizations will be considered royalty exempt.
---
Approval Process
Approval Process
Complete the Logo Review approval form below.
NOTE: Only licensed vendors may produce items featuring university trademarks. A complete list of licensed manufacturers is available on the ECU website: https://licensing.ecu.edu/product-purchasing/.
If you wish to have a manufacturer added to the list, please contact the Collegiate Licensing Company Inc. at clc@clc.com. East Carolina University is required by law to control the use of its trademarks and control is maintained through allowing only officially licensed manufacturers to reproduce University trademarks.
2. Submit approval form and proposed artwork (one piece of art per submission please so each piece can be approved or adjusted individually). Alternatively, an email with all of the requested information from the form and proposed artwork can be sent to logoreview@ecu.edu.
3. Once artwork and approval form is received, please allow 1-3 business days for a response to your application. You will be notified if revisions are required. Please allow additional time if design assistance is required.
4. You will receive an email notifying you of approval of the project. Once you have received approval you may move forward with producing your item.
Approvals are for a specific production of an item and do not cover future production of this or a similar item.
5.For additional questions about this process please review the FAQ section of the licensing Web site. Additionally, you may submit questions to logoreview@ecu.edu.
---